Sirano wa Begeraki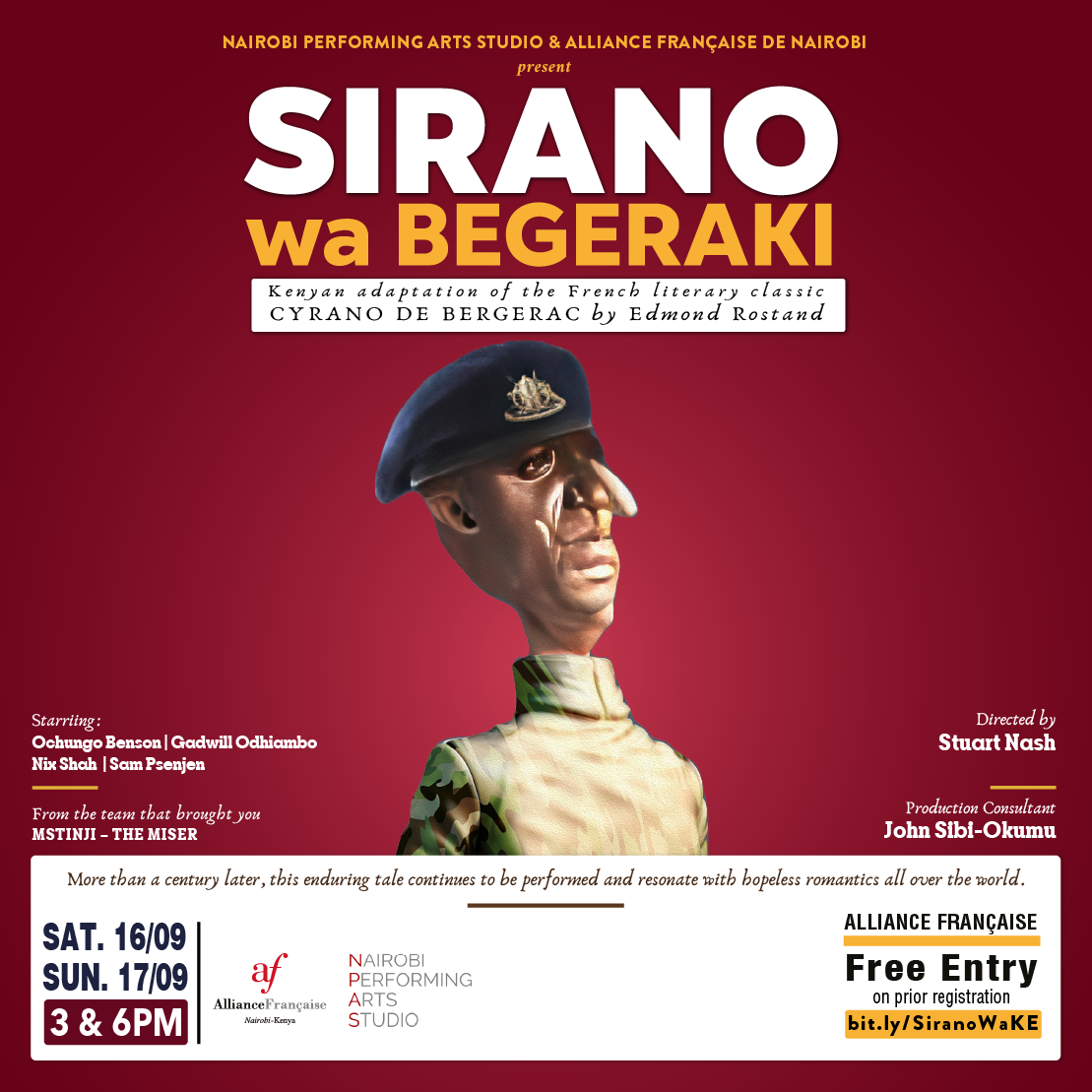 Following the successful production of the play 'The Miser' (Mstinji) by Molière in 2022 to mark the 400th anniversary of Molière, the Alliance Française presents yet another Kenyan adaptation of a popular French play.
We have chosen the play 'Cyrano de Bergerac' by the French poet and dramatist Edmond Rostand. It made its first appearance in 1897 and was presented for 500 consecutive performances. It was the most popular play of the era, and since its first performance there has hardly been a time when it was not in production somewhere in the world.
In this modern retelling of France's most famous play, the action is set in 2011 in Nyati Barracks in Nanyuki in the lead up to the Operation Linda Nchi in Somalia.
Après le succès de la pièce "L'Avare" (Mstinji) de Molière en 2022 pour marquer le 400ème anniversaire de Molière, l'Alliance française présente une nouvelle adaptation kenyane d'une pièce française populaire.
Nous avons choisi la pièce "Cyrano de Bergerac" du poète et dramaturge français Edmond Rostand. Elle a été jouée pour la première fois en 1897. C'est l'une des pièces les plus populaires du théâtre français, et depuis sa première représentation, il n'y a pratiquement pas eu de moment où elle n'a pas été jouée quelque part dans le monde.Dans cette reprise kenyane, l'action se déroule en 2011 dans les casernes de Nyati à Nanyuki, avant l'opération Linda Nchi en Somalie.
                                                                                                                                                      BOOK YOUR TICKET HERE ⬇️
                                                                                                                                                             https://bit.ly/SiranoWaKE