CinemAlliance/Tigritudes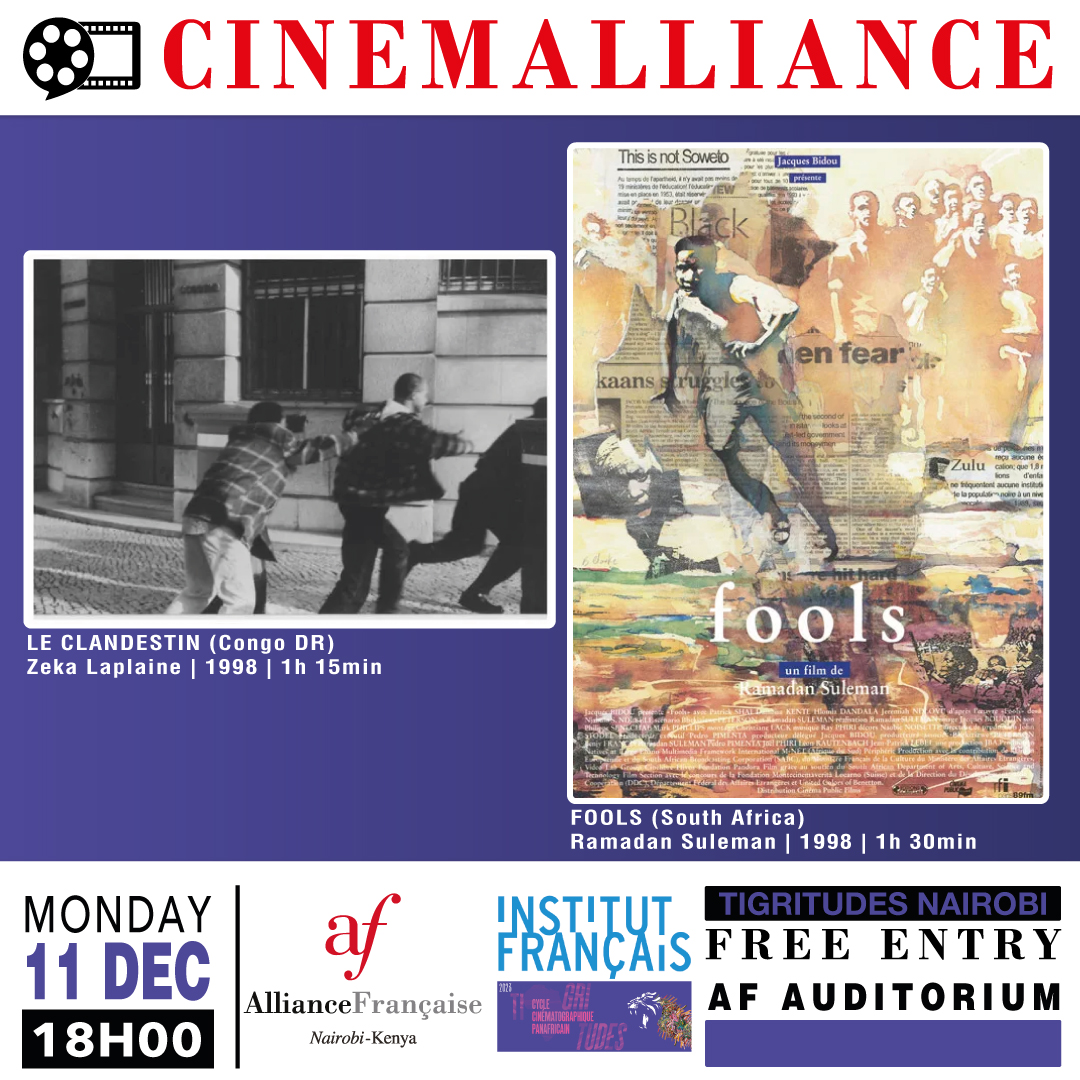 LE CLANDESTIN (Congo DR)
Zeka Laplaine | 1998 | 1h 15 min
The film is a letter written by a young illegal immigrant from Africa to his cousin in Lisbon (Portugal): hidden in a container, he has landed in the port of Lisbon. His traveling companion, an Angolan, is dead. As soon as he disembarks, our hero runs into a policeman, also black, who insists on following him on a silent chase through Lisbon, punctuated by increasingly disappointing encounters and humorous cardboard boxes.
Le film est une lettre qu'écrit à son cousin, à Lisbonne (Portugal), un jeune clandestin venu d'Afrique : caché dans un container, il a débarqué dans le port de Lisbonne. Son compagnon de voyage, un Angolais, est mort. Aussitôt débarqué, notre héros tombe sur un policier, noir lui aussi, qui va s'obstiner à le suivre dans une course-poursuite muette à travers Lisbonne, ponctuée de rencontres de plus en plus décevantes et de cartons plein d'humour. Pendant cette première journée « au paradis », il va connaître l'enfer !
FOOLS (South Africa)
Ramadan Suleman | 1998 | 1h 30min
Charterston Township 1990. Professor Zamani is respected in the township. To be sure, he once raped one of his students but the community turned a blind eye. Zamani used to rail against the apartheid system but those days are long gone. Now he teaches South African history in the Afrikaner language and grudgingly organizes the picnic for National Day, which commemorates the Boers' massacre of the Zulu nation… When Zani, the raped girl's brother, returns from Swaziland where he had the chance to study, he is determined to change everything…
Flame est le premier film zimbabwéen depuis l'indépendance et rend hommage aux femmes guérilleros de l'Armée de lLe professeur Zamani est respecté dans le township. Certes, il a violé une de ses jeunes élèves, mais la communauté ferme les yeux. Il y a longtemps Zamani s'est rebellé contre la politique d'Apartheid, mais c'est une vieille histoire. Aujourd'hui, il enseigne l'histoire de son pays en Afrikaner et prépare en grognant le pique-nique de la fête nationale, anniversaire du massacre de la nation Zoulou par les Boers… Quand Zani, le frère de la jeune fille violée, revient du Swaziland où il a eu la chance de faire des études, il est fermement décidé à tout changer….