Walking with Gorillas – Dr. Gladys Kalema-Zikusoka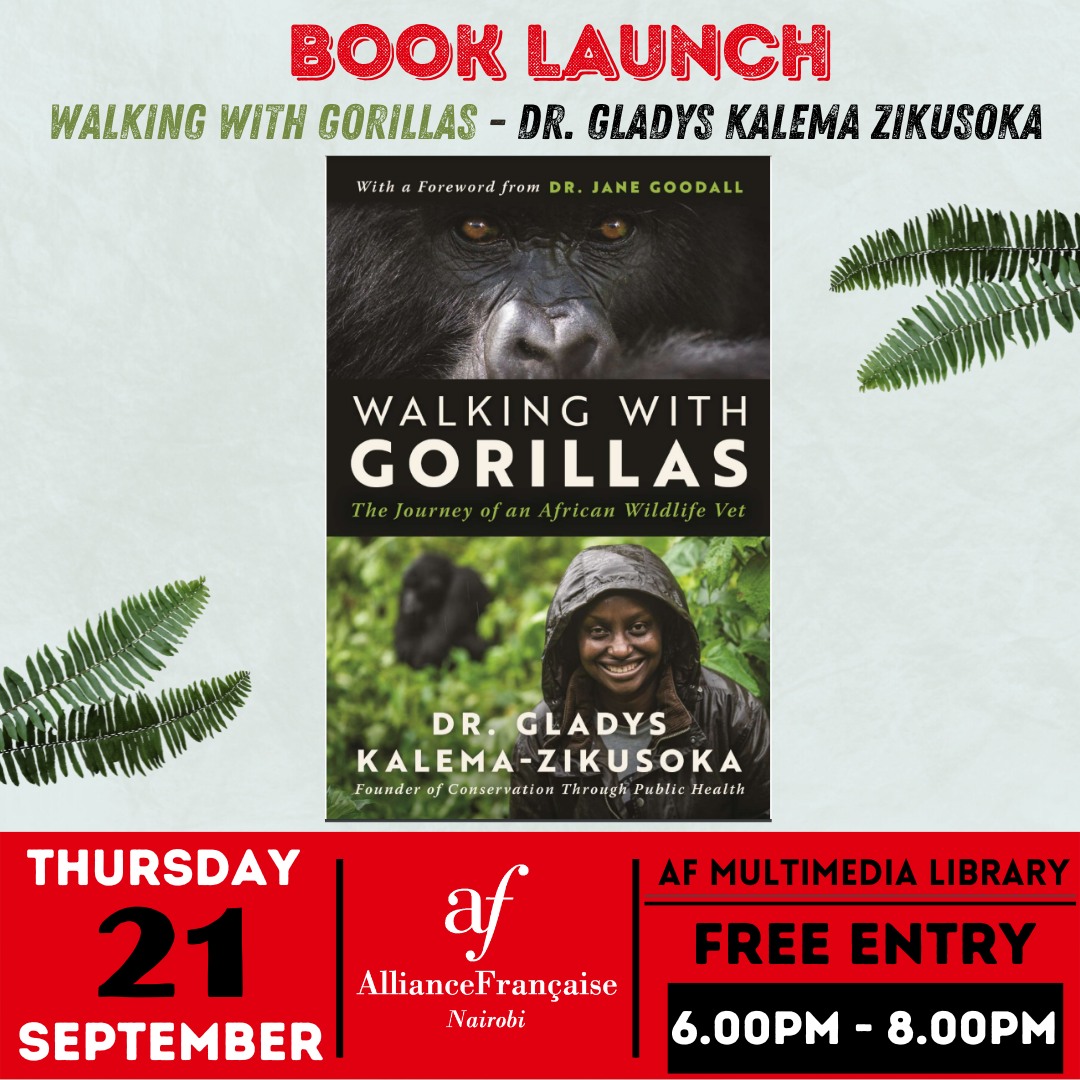 In her enchanting memoir, Dr. Gladys Kalema-Zikusoka, Uganda's first wildlife veterinarian, tells the remarkable story from her animal-loving childhood to her career protecting endangered mountain gorillas and other wild animals. She is also the defender of people as a groundbreaking promoter of human public health and an advocate for revolutionary integrated approaches to saving our planet. In an increasingly interconnected world, animal and human health alike depend on sustainable solutions and Dr. Gladys has developed an innovative approach to conservation among the endangered Mountain Gorillas of Bwindi Impenetrable Forest and their human neighbours.
Walking with Gorillas takes the reader on an incredible personal journey with Dr. Gladys, from her early days as a student in Uganda, enduring the assassination of her father during a military coup, to her veterinarian education in England to establishing the first veterinary department for the Ugandan government to founding one of the first organizations in the world that enables people to coexist with wildlife through improving the health and wellbeing of both. Her award-winning approach reduced the impact of the COVID-19 pandemic on critically endangered mountain gorillas.
In the face of discrimination and a male dominated world, one woman's passion and determination to build a brighter future for the local wildlife and human community offers inspiration and insights into what is truly possible for our planet when we come together.
**Bio **
Dr. Gladys Kalema-Zikusoka is a National Geographic Explorer, an Ashoka Fellow and Mulago Foundation Henry Arnhold Fellow.
She has won a number of awards through CTPH and Gorilla Conservation Coffee that improves the quality of life of people and wildlife to enable them to coexist in and around protected areas in Africa.
These include the 2008 San Diego Zoo Conservation-in-Action Award, 2009 Whitley Gold Award; 2011 WINGS Women of Discovery and Exploration Humanity Award, 2017 President of Uganda's Golden Jubilee Award for her contribution to the nation as a conservationist and veterinarian on Women's Day, 2018 Sierra Club EarthCare Award, 2019 Finalist for the Tusk Award for Conservation in Africa and 2020 and 2021 Finalist for the Tällberg-SNF-Eliasson Global Leadership Prize.
She won the 2020 Uganda Veterinary Association World Veterinary Day Award focussed on One Health approaches and the 2020 Aldo Leopold Award for Mammalogists. In 2021 she was recognised by Avance Media among 100 most influential women in Africa and won the UNEP Champions of the Earth Award in the category of Science and Innovation.
She is the winner of the 2022 Edinburgh Medal for her work in Planetary health and 2022 Tällberg-SNF-Eliasson Global Leadership Prize. She is a finalist for the 2023 Indianapolis Prize.